With the help of the BKG staff, we're proud to announce the first ever speedrun even of the Harem Collector community. Starting on the 12
th
and through the course of August, we're looking for the quickest ways to complete the Manor Invasion quest on normal mode!
Everyone is welcome to compete, just start up your game, give a try and post your times in here!
For those who are new to the concept of speedrunning Harem Collector, here's a video of one of my runs for you, with some explanations and tips: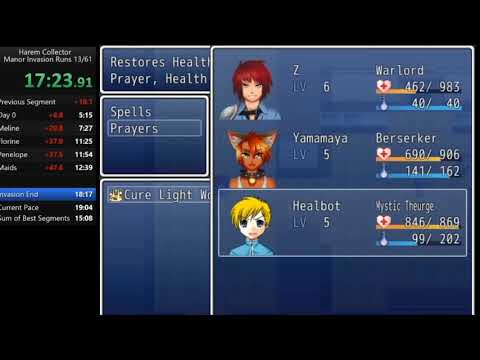 ​Prizes
:
The three runners with the fastest time will receive a custom-made in-game sprite for a character of their choice, made by Kumiho.
​
If you have questions about what would work, how your prize would appear in-game or whatever, feel free to ask at the hc_speedrunning channel on BKG-discord.
Rules
:
runs have to be done on a New Game on Normal Mode in patch 0.47x
no mods, no Wiki-tan and no Cerulean
no sequence-breaking glitches: No glitches that let you skip events, gain access to locations or items ahead of time
only one entry per participant (of course you're allowed to do as many runs as you wish, but only your fastest run will count towards the prize)
every entry must provide a screenshot of your in-game end-time and your save file; if you have a video of your run, feel free to post that as well!
​
For further information, feel free to drop a post here or use the hc_speedrunning channel on BKG-discord!
Don't forget to vote for the Halloween polls as well, and maybe you can see some of your sprite-ideas on Harem Collector soon!
http://www.badkittygames.net/communi...0-costume-poll
EDIT:
To make the run easier, we'll allow the use of achievements and the buffs you get from them. If you don't have all the achievements, just copy this data into your main game folder:
Misc_Data.rvdata2